Mushroom Workshop: Unlocking the Secret of Shiitake Mushrooms
Unlocking the Secret of Shiitake Mushrooms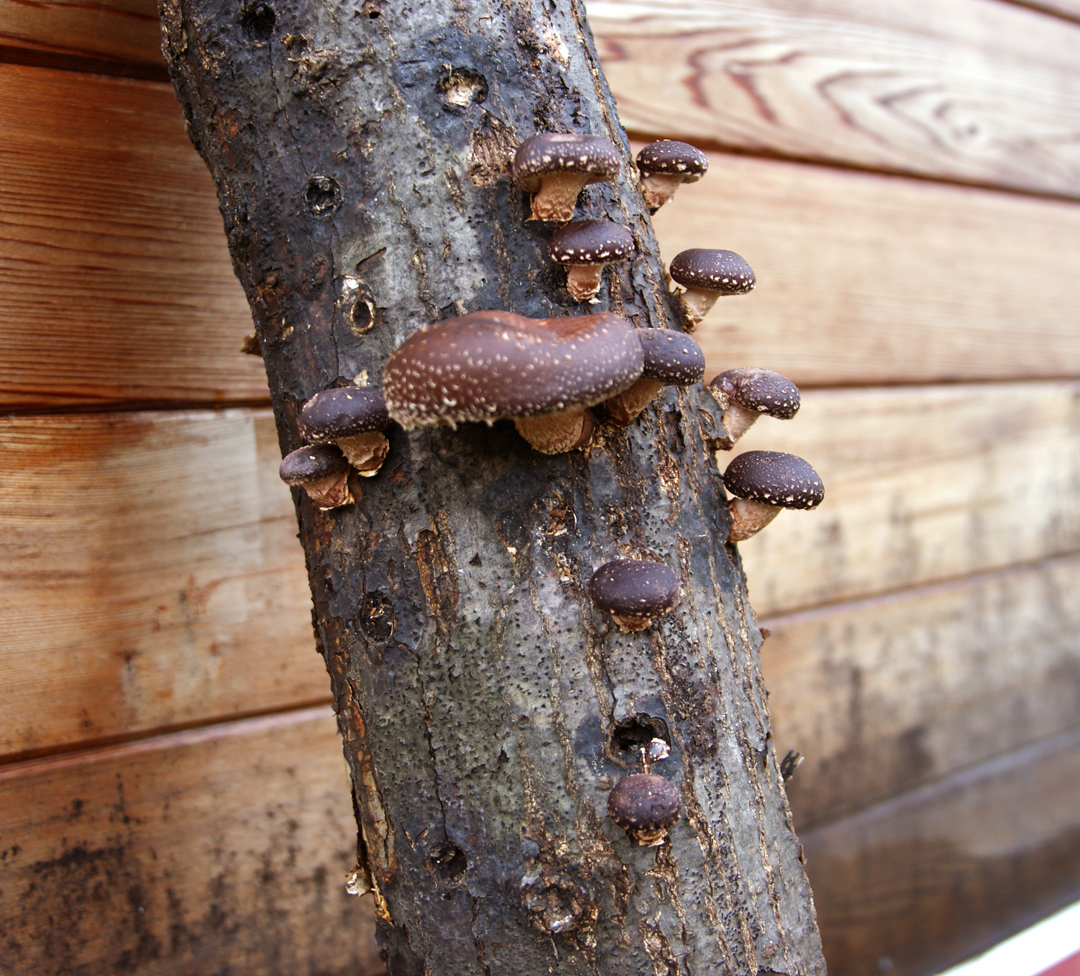 As the temperatures starts to cool down, a wide range of mushroom will start to flush. Shiitake mushroom is among one of the varieties that you'll start to see flush. These meaty flavored caps haven't always been this readily available. About 25 years ago, shiitake mushroom were dried and then imported into the US for consumption. Shiitake mushrooms are now one of the most popular mushrooms cultivated in the US. The Shiitake, meaning "mushroom of the oak tree" is a major agricultural commodity in Japan due to its medicinal value and is a great substitute for meat.
Shiitake mushrooms are a symbol of longevity in Asia due to its many medicinal properties. Shiitake mushrooms are good sources of B-complex vitamins that help aid digestion and convert food into energy. B-complex vitamins have been said to help aid in the production of red blood cells, protecting individuals against anemia. Shiitake mushrooms are rich in antioxidant properties that help combat and relieve different anti-inflammatory conditions such as eczema and acne. Shiitake are loaded with iron and helps enhance oxygen circulation throughout the body. These mushrooms are also packed full of dietary fiber.
Shiitake mushrooms have a dark brown cap and taste best when the cap is still curved under. The gills underneath the caps should be tightly formed and moist. Since shiitake mushroom are not directly grown in soil, the mushrooms do not need to be washed but should be wiped down with a damp paper towel. Shiitake mushrooms have a distinct nutty flavor that is great for many dishes. Sautéing is the most common way of cooking these mushrooms but these little delights can be fried, grilled, roasted or added into soups. These mushrooms can be stored in the refrigerator with a damp paper towel over them for up to two weeks or dried for future usage. Simply soak the mushroom in water to rehydrate.
The shiitake mushroom is a wood-decaying fungus and can be grown on logs or in nutrient rich saw dust or other organic materials filled bag. Like its name, shiitake mushroom is best grown in oak log or similar hardwood logs. Inoculating logs is a simpler way to produce shiitake but depends heavily on the weather and climate to flush. Bag culture, on the other hand, is a highly specialized process that needs a highly controlled environment; the yield may be higher but many consumers have stated that flavor and taste begins to drops in bag culture.
For any interested participants, the Catawba County Cooperative Extension will be hosting a shiitake mushroom inoculating workshop on Wednesday, December 2nd from 1:00pm till 4:00pm. Cost of the workshop is $20 dollars. Register participants are requested to bring two oak or hardwood logs that are 3-5 inches in diameter and 4-6 feet in length. These logs must be freshly cut; less than two weeks. For more information on the workshop or to register, please call or email Der Xiong at 828-465-8248/ der_xiong@ncsu.edu or visit our website at catawba.ces.ncsu.edu
Was the information on this page helpful?
This page can also be accessed from:
go.ncsu.edu/readext?383760