Farm City Week: A Time for All to Celebrate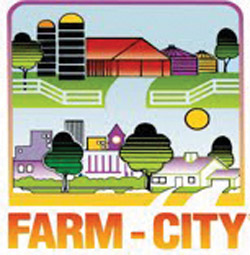 What does a farmer, a logger, a fisherman, and a food processor have in common? They all play an important role in providing the nation with access to a healthy and abundant supply of food, fiber, and natural resources. Catawba county's urban community is expanding but our history is greatly tied to our rural activities. Although both communities work cohesively together, there are still some discord between the two groups. The National Farm City week has worked to build a connection between our urban and rural communities. Farm City committee is a grassroots effort at the community, county, or state level to build a better understanding between our rural and urban residents.
The National Farm City week started five decades ago in 1955 when Charles Dana Bennet, an independent entrepreneur from Vermont, and Merie H. Tucker, chairman of the Kiwanis International Agriculture and Conservation committee, met on a train and struck a conversation. Many farmers were facing financial hardship during the time. Many families lost their family farms. Charles and Merie talked about how the hardship on farmers created a poor image of agriculture and how urban dwellers without direct ties to farming and ranching were strongly influencing agriculture policies. They expressed their concern over the drifting ties between the farm and city people. This simple conversation led to the celebration of farm city week for over 60 years. Farm City week has generally been celebrated the week leading up to Thanksgiving. This year, many communities across the nation will be celebrating Farm City week on November 15th through November 22nd.
Wherever you live, on the farm or in the city, we all share common needs. Natural resources such as lumber for shelter, fiber for clothing, and food for nourishments are a few examples. Agriculture is an important part of all our lives. Take the time to visit the farmers market and get to know the farmers. Take a tour of the farms in the county and learn a little more about the farmers who work there. Start asking more about how food and other products made it to you and you'll find a deeper relationship between our cities and our farmers.
This year, the Cooperative Extension and many other partners will be concluding Farm City week with a banquet celebrating our past and exploring our future. The Farm City banquet will take place at the Catawba Country Club on Tuesday, November 22nd. Our guest speaker is Scott Marlowe from the Economic Development Center. The doors open at 5:30pm with dinner starting at 6:00pm. Tickets are $15 per person. Tickets must be present at the door to attend and can be purchased at the Catawba County Cooperative Extension office. Click here to download the farm city Banquet flyer. For more information on the Farm City banquet and the history of Farm City week, please call the Catawba County Cooperative Extension office at 828-465-8240 or email Der Holcomb at der_xiong@ncsu.edu.
Was the information on this page helpful?
This page can also be accessed from:
go.ncsu.edu/readext?433332