Herbicide Resistant Weed Updates
The following are some of the latest herbicide resistant updates from Dr. Wes Everman, NC State Weed Specialist
PPO resistance concerns: (weeds that are resistant to herbicides like Aim, Goal, Prefix, Cobra, Spartan, Valor, etc) include: Waterhemp, Common ragweed, Smooth pigweed,Palmer amaranth, and Horseweed.
Palmer Amaranth resistance has been confirmed to PPO, ALS, glyphosate, and triazine here in North Carolina. There is 2,4-D and HPPD resistance in the midwest, and Arkansas has selected for dicamba resistance in Palmer Amaranth after just 3 generations of Palmer Amaranth exposure to dicamba. ALS resistance concerns (weeds that are resistant to herbicides like Classic, Permit, Accent, Harmony, etc). Triazine resistance concerns (weeds that are resistant to herbicides like AAtrex and Princep). HPPD resistance concerns (weeds that are resistant to herbicides like Balance Flexx, Calisto, Impact, etc. ).
Common ragweed: PPO/ALS/glyphosate resistance confirmed in the Northeast region of North Carolina.
Waterhemp: In the Northeast of NC, however, there have been 6 populations found in the area around Winston Salem and Statesville that are confirmed PPO resistant and suspected to be ALS and glyphosate resistant. Not sure if there is other resistance in those populations yet.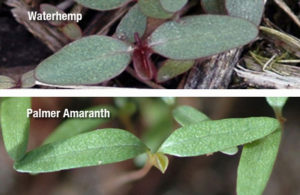 The featured photo is from Corn and Soybean Digest.
Take a look at this slide show for more identifying features for waterhemp vs. Palmer Amaranth.
Horseweed: resistance to glyphosate has spread across the Piedmont from South to North, although it remains spotty in distribution.
Still no confirmed issues with smooth pigweed.
Glyphosate + 2,4-D + Valor is still a standard burndown for horseweed. I like Sharpen, it has excellent burndown for horseweed. Other growth regulators can work, just be aware of the plant back restrictions.
The harvest weed seed destructor work remains interesting, however feasibility is uncertain with the cost and size of equipment needed. Some companies are looking at integrating them into new machines, and the Australian company is working on a retrofitted internal unit. They may be available in the near future.
Was the information on this page helpful?
This page can also be accessed from:
go.ncsu.edu/readext?522488