Eat, Drink, and Be Local Farm Feast
Eat, Drink, and Be Local 
Farm Feast and Schedule of Events
July 14-21, 2018
Registration and ticket sales open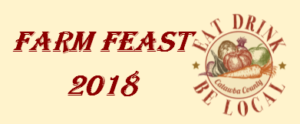 Dinner. Drinks. Music.
       July 21 Saturday        5:30-9:30
      The Main Cellar City Club
      332 1st Ave. SW
      Hickory, NC
Tickets $30 or reserve a table of ten
Buy tickets online
Call  Cooperative Extension 828-465-8240
Join us for some of the best local food and drink the county has to offer!
This year Eat, Drink and Be Local, Catawba County's local foods celebration will take place from July 14-July 21. The Farm Feast is a great event serving up locally sourced food. It's a great way to taste what our county has produced and support the farmers who work hard for us. Music will be by the bluegrass band The Neighbors. Stay posted for other Eat, Drink, and Be Local events that week.
Participating Restaurants- Visit these restaurants throughout the week for special local dishes.
Cafe Rule, Food Factory, Fourk, Hatch, Highland Ave. Wood, Taste Full Beans, Standard Oyster Company
Follow us on Facebook for updates and pictures of dishes
EDBL Schedule of events
Saturday, July 14th
Cooking demo/Downtown Hickory Farmers Market
Union Square, Hickory, NC  10am-12pm    Free
(828) 308-6508
Cooking demo/ Conover Farmers Market
Near post office in Conover, 10-2pm  Free
Monday, July 16th
The CityFarm Project and Hickory Greenway Harvest at the Salt Block
Raised Bed gardening and Aquaponics 6:30pm-7:30pm     Free
Catawba Science Center
243 3rd Ave. NE, Hickory
828-464-5780
Outside by the greenhouse and gardens
Tuesday, July 17th
Farm Tour: Smiths Blueberry Farm 6:30-8pm    Free
7596 Greedy Hwy, Hickory
828-302-1950
Wednesday, July 18th
Cooking demonstration 11-1pm
Downtown Hickory Farmers Market    Free
Local Foods Cooking Class 5:30-6:30
Hickory Soup Kitchen
110 2nd. Pl. S.E. Hickory
$10 fee includes local bag of produce
To register call 828-465-8240 or follow the link below
https://docs.google.com/forms/d/e/1FAIpQLSeyns8ecy80ztMx6yXtOWBBaGivsQcBmuvjFgYXw3ME-wL_HA/viewform?c=0&w=1
Thursday, July 19th
Cooking Demonstration 11-1pm     Free
Hickory Public Health Farmers Market
3070 11th Ave Dr SE, Hickory, NC
828-695-5800
Farm Tour: Crouching Hippo Farm 6:30-8pm    Free
1080 Morehead Road, Claremont
828-464-5780
Friday, July 20th 6-8pm
Wine, Beer and Cider Tastings with light bites. Guests may tour farm site.
Catawba Farms
400 Technibuilt Drive, Newton
828-464-5780
$10 Eventbrite https://www.eventbrite.com/e/eat-drink-and-be-local-wine-beer-and-cider-tasting-tickets-47130580836
Was the information on this page helpful?
This page can also be accessed from:
go.ncsu.edu/readext?526098