Local Foods Cooking Class
Local Foods Cooking Class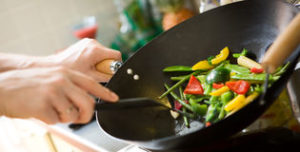 Eat healthy while supporting
local farmers
Wednesdays 5:30-6:30 p.m.
Extension Center 1175 S. Brady Ave. Newton
June 20th and July 11
Hickory Soup Kitchen 110 2nd Pl.S.E Hickory
June 27 and July 18
In these classes, you will learn how to make the most of seasonal produce with simple, fast recipes and a bag of produce sourced from local farmers. Cost is $10 per class, which includes the cost of the produce. Each class will feature different recipes and produce.
Register online, or call 828-465-8240.
Payment must be made by 3:00 p.m. the previous day of class.
Coordinated by the Cooperative Extension Small Farms and Local Foods and Hickory Soup Kitchen.