Sourcing Local Food During COVID-19
Find this article at:
go.ncsu.edu/readext?676671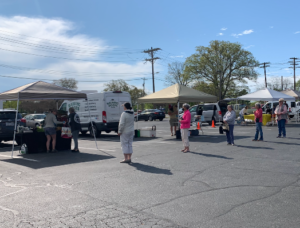 I know this updated list of farmers markets, csa, farm stands, and meat producers is not complete. If you are a producer or a market sourcing from a local producer and would like to be included on these lists, please contact me at alvigard@ncsu.edu.
If you are in need of meals, three amazing local chefs, Ben Sullivan, Daniel Wheeler and Joey Mansueto of The Underground Table are cooking up meals for 4-6 people for a $15 donation. Please call 828-324-6634 to place your order Sun.–Tues. until 1 p.m. for pick up Tuesday 5–6:30 p.m., and Thurs.–Sat until 1 p.m. for pick up Saturday 3–4:30 p.m. They are accepting food and cash donations.
Farmers Markets
The Hickory Farmers Market will open this Saturday, April 18, 8 a.m.–1 p.m. in the parking lot next to Lowes Park just west of The Sails in Union Square. This will allow vendors to space out more and offer easier access to parking. Only vendors selling agricultural products will be present and other vendors selling essentials such as soap and masks.
The Conover Farmers Market located in the Conover Post Office parking lot will open a week later this year on Saturday, May 9 from 8 a.m.–noon. They will also be spreading farm stands out more and following other safety protocols.
Catawba County Public Health Farmers Market located at Catawba County Public Health will open June 4–Sept. 24, Thursdays from 10 a.m.–1 p.m.
Murry's Mill Farmers Market 1489 Murray's Mill Rd. will open this year from 4/16 – 9/17 on Thursdays from 3–7 p.m. Currently looking for vendors.
CSA's
Community Supported Agriculture). Pay now for vegetables and other products throughout season. Farms offer a variety of product and payment options.
Coto Family Farm drop off on Thursdays at Taste Full Beans. They are also working on an online store to offer pre-order items. You can also pre-order salad mix from the Taste Full Beans website to pick up on Mondays.
The Farmers Daughter will be expanding their CSA and offering drop off sites at their farm in Taylorsville on Thursdays, two other sites in Alexander county for Alexander county residents only,  the 1st Citizens Bank at Hwy 127 and Rink Dam Rd. and possibly a site in Newton if there is enough interest. They will also have a mobile market at the 1st Citizens Bank opening up at the end of April. Please check their website for more information on days and times.
Tumbling Shoals is also offering more CSA shares this year and has expanded their drop off sites to include Lenior and Hickory. In addition to their CSA, they now have an online store where items can be purchased beforehand for pick up at the Hickory Farmers Market to reduce contact. You will start with a basic box for $8.50 which you can build upon by adding extra items.
Bluebird Farm will no longer be coming to the Hickory Farmers Market but they are offering CSA shares and have a virtual shop to place pre-orders for pick-up. The shop opens on Wednesday and closes on Thursday at 11 p.m. Orders can be picked up at their farm in Morganton from 5–6 p.m. The Charlotte Regional Market 8 a.m. – noon, and after May 8th from Cafe Rule Restaurant in Hickory Fridays from 4-6 p.m. Sign up for their newsletter on their website to receive the product list.
Farm Pick-Ups
Honey Tree Farm have a small stand on Fridays from 3–7 p.m., 1st come 1st served. Chefs from the Underground Table will also have other products for sale such as baked goods to help raise money to feed families in need. They will also be at the Hickory Farmers Market.
Crouching Hippo Farm in Claremont are offering pre-orders with pick up at their farm on Fridays from 3–7 p.m. You can check their Facebook page for the produce list and email them at Farm@crouching-hippo.com to place your order.
Catawba Mushroom Partnersis a new mushroom producer growing several types of oyster, lion's mane, king trumpet, and pioppino mushrooms. You can email them from their website to place a pre-order for pick-up.
De'Farm on Blueberry Hill offers mushrooms and blueberries. Please contact them for availability.
The Farmers Daughter will have strawberries available soon but there will be no U-pick. You can pick up at their farm stand in Taylorsville. The farm stand will also be open throughout the season offering other produce and possibly beef.
Farisha Foods will be taking orders for farm pick up for produce, chickens, and goats. Email indigyal@gmail.com for available and prices.
Meat Producers
Beam Family Farm is offering pre-orders of their beef/veal and pork for pick up at the market. Go to  Barn 2 Door to order.
Raising Roots Farm is offering pre-orders of their pork, eggs, beef and later vegetables for pick up or delivery. Go to Barn 2 Door to order.
Rippetoe Farm is offering pork and chicken for pick up at several locations. Go to Rippetoe Farm to order.
Rock Barn Beef is offering various cuts of beef. Check out their website for pricing. Email them at RockBarnBeef@Yahoo.com to place an order.
Russell Family Farm offers beef and pork. Orders can be placed for pick-up in Morganton or at the Hickory Farmers Market.
Millhaven is offering beef and pork. Contact through their website Millhaven Farm for prices, pick-up locations, and ordering.
Windy Wool Windings is offering lamb products and is willing to make arrangements to get orders to you or you can pick up at The Hickory Farmers Market.
Windfell Farms is offering lamb and eggs with online ordering. You can pick up at the farm, The Hickory Farmers Market on Saturday or they will deliver within 45 min. of Maiden.
Meat Suite is an online store listing bulk sales of meat from producers in NC. Sales of half and whole animals and a variety of bundles.
Farm Stores/Stands
Devine Farm Stand 2675 St. James Church Rd., Newton, NC is open Mon-Fri 2–6 p.m. and Sat. 10 a.m.–3 p.m. They offer a variety of fruit, vegetables, milk, eggs, honey, and prepared foods. They are offering curbside service. Call 828-461-2012 for more information.
Catawba Farms 1670 Southwest Blvd., Newton, NC is open Tues.-Sun. 11 a.m.–6 p.m. You can order online at Catawba Farms for curbside pickup. They offer honey, eggs, wine, beer, and prepared food, and produce as it becomes available.
Burton Farms Stand 425 Conover Blvd. Sun-Fri. 10 a.m.–7 p.m., Sat. 9 a.m.–7 p.m.; 317 E. Main St. Lincolnton, Sun-Fri. 10 a.m.–8 p.m., Sat. 9 a.m.–8 p.m.
JB Farms and Grace Chapel Greenhouses have a farm stand open Mon-Thurs. 1–5 p.m., Friday and Saturdays 8 a.m.–4 p.m. They are offering vegetables, flower, herb plants, and microgreens with more vegetables throughout the season. Email them at GraceChapelGreenhouses@gmail.com or call at 828-228-6000.
Wilkinson Family Farm 4584 S. NC 16 Hwy, Maiden, NC. They offer eggs year-round and will have vegetables available at the end of April. Call 704-380-5451 for availability.
Taste Full Beans Coffeehouse 29 2nd. St. NW, Hickory, NC will be offering milk and meat products as well as salad and kale from Coto Family Farm.