Catawba County Vermicomposting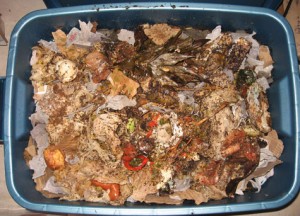 Vermicomposting display at the Catawba County Waste Education Center
Advantages of Vermicomposting:
Reduces household garbage disposal costs;
Produces less odor and attracts fewer pests than putting food waste into a garbage container;
Saves the water and electricity that kitchen sink garbage disposal units consume;
Produces a free, high quality soil amendment (compost);
Requires little space, labor or maintenance;
Spawns free worms for fishing
Equipment and supplies needed are a worm bin, bedding, water, worms and food scraps.
For more information, you may contact Kelly Groves. Phone: (828) 465-8240.
Was the information on this page helpful?