Catawba County Small Farms and Local Food Program
 The 2019 Local Food Guide is Here
Use this interactive PDF to explore local farms, businesses and Extension Programs
Local Food Guide Catawba County NC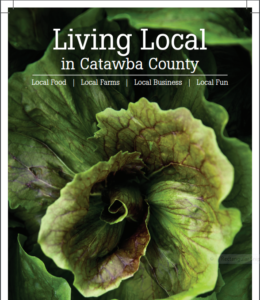 Vision: To Improve community resilience, assist new and current farmers in production and business questions, and attract families to connect with local agriculture and a vibrant local food system.
Goal: Successful implementation of the Catawba County Farm and Food Sustainability Plan.
The Winter Farmers Market at the Crossing
Wednesdays 10 a.m.–2 p.m. on the 2nd Fl. across from Highland Ave. restaurant
Open Dec. 19, 2018, with Produce, Meat, Cheese, Specialty Products and Gifts for the Holidays.
The market will re-open Jan. 9, 2019, and run until the last Wed. in Feb.
Check out Facebook for updates
Programming and Upcoming Events
Small Farmers Meeting–  A group of local farmers who meet once a month (every other month in Summer) for a potluck to support one another, discuss production issues,  and pull resources. Our next meeting will be in Jan. time and place to be announced. Please contact April Vigardt at alvigard@ncsu.edu or call 828-453-8243 for more information.
April Vigardt
Small Farms and Local Food Agent
828-465-8240