Catawba County Small Farms and Local Food Program
Find this page at:
go.ncsu.edu/readext?547565
To be included in the 2020 Local Foods Guide, please contact
April Vigardt at 828-465-8243
The 2020 Local Food Guide
Local Food Updated list 4/15/2020  for Covid-19- Farmers markets, Csa, Farm stands, Meat producers
No Cost Food Sourcing in Catawba County, Compiled by Public Health
The 2020 print version will be not available until the stay at home order is lifted.
The Mobile Version will be updated continuously.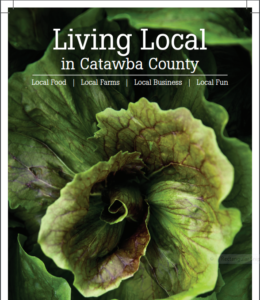 Programming and Upcoming Events
All Extension Programs are canceled until at least May 31, 2020
I will be updating links below with recipes and other information.
Small Farmers Meeting
This group will meet through Zoom during this time. Please email me if you would like to be included.
A group of local farmers who meet once a month (every other month in Summer) for a potluck to support one another, discuss production issues, and pull resources. Our next meeting will be in May, time and place to be announced. Please contact April Vigardt at alvigard@ncsu.edu or call 828-453-8243 for more information.
April Vigardt
Small Farms and Local Food Agent
alvigard@ncsu.edu
828-465-8243
Vision: To Improve community resilience, assist new and current farmers in production and business questions, and attract families to connect with local agriculture and a vibrant local food system.
Goal: Successful implementation of the Catawba County Farm and Food Sustainability Plan