Catawba County Small Farms and Local Food Program
 The 2019 Local Food Guide is Here
Mobile friendly webpage  www.catawbacountyfood.weebly.com
Downloadable and printable pdf
Local Food Guide Catawba County NC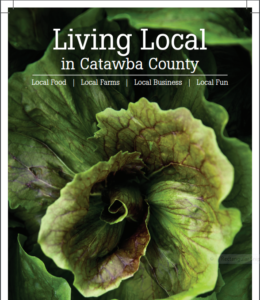 Programming and Upcoming Events
Local Foods  Cooking Class   Monthly May to Oct.
Eat, Drink and Be Local     July 14-20th
Market Gardener Course   March/April
Small Farmers Meeting–  A group of local farmers who meet once a month (every other month in Summer) for a potluck to support one another, discuss production issues,  and pull resources. Our next meeting will be in May,  time and place to be announced. Please contact April Vigardt at alvigard@ncsu.edu or call 828-453-8243 for more information.
April Vigardt
Small Farms and Local Food Agent
828-465-8240
Vision: To Improve community resilience, assist new and current farmers in production and business questions, and attract families to connect with local agriculture and a vibrant local food system.
Goal: Successful implementation of the Catawba County Farm and Food Sustainability Plan