Catawba County Gardening Programs
The Catawba County Cooperative Extension Gardening Program provides technical support and educational training for beginning and experienced vegetable production and lawn/landscape management. We provide daily consultation to the public regarding general questions through media articles, monthly newsletters, phone calls, e-mails, and walk-in questions.
Program Vision: to improve community resiliency, health and general well-being with: increased outdoor activity, increased vegetable and fruit production, and increased consumption of locally grown produce.
Program Goal: to provide educational and technical assistance for the public to establish new gardens, expand existing gardens, increase outdoor activity, and increase consumption of locally grown produce as part of the goals developed in the Catawba County Farm and Food Sustainability Plan and the Catawba County Community Health Assessment.
Stay up to date about all of the classes, workshops, cooking classes, tours, and activities – sign up for the Catawba County Extension monthly newsletter.
For more information on the Master Gardener or Advanced Gardener program, contact George Place at 828-465-8247.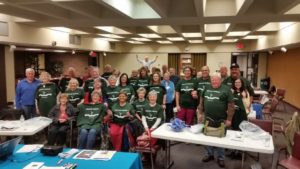 Educational Programming – activities coming up:
Advanced Gardener Graduation – Tuesday night, Dec 4 from 5:30 to 7:00 p.m. at the Newton Library. Please RSVP here!
Dec 11 at 10 a.m. – Sustainable Landscape Ideas
Dec 11 at 11 a.m. – Turf Grass Management
Educational Programming – on-going programs:
Monthly presentations with Hickory, Newton, and Maiden libraries. We are developing the program schedule for the 2019 Advanced Gardener Series. Please take this 2 minute survey to rank which topics you want!
Extension Master Gardener Course:
An intensive 12 week course for volunteer gardeners to serve the community. Registration for the 2019 Master Gardener Training Course
Annual Garden Calendar for Catawba County